MAI Outreach Workers Map Road to Retention for HIV-positive Clients
Date Created: August 27, 2015 03:42 PM


One by one, Minority Aids Initiative (MAI) outreach workers stepped in front of their peers and sketched items that symbolize their profession. Comedy and tragedy masks, representing clients' ever-changing moods. A handbag, packed with snacks and bus tokens to keep clients nourished and on time for appointments. A bridge, depicting how they connect those in need and help shoulder the "two tons of problems" that lead some HIV-positive individuals to fall through the cracks of the healthcare system.



On April 30, representatives from all ten Minority AIDS Initiative sites gathered to share strategies for linking HIV-positive individuals to medical care and sustaining their outreach programs.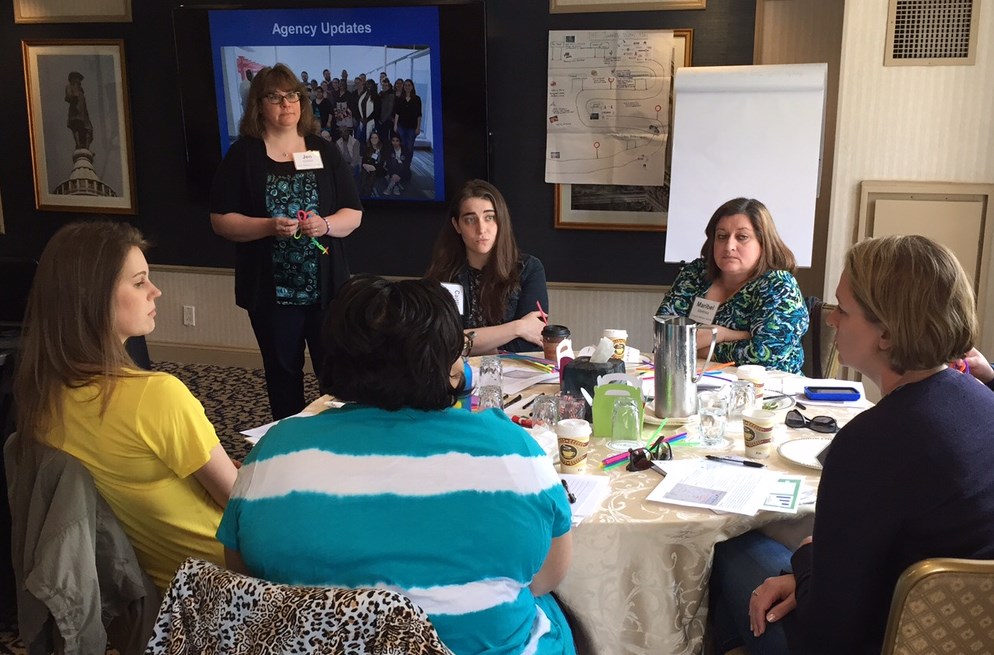 JHF Senior Quality Improvement Specialist Jennifer Condel, SCT(ASCP)MT, facilitates a group discussion on the triggers that lead HIV-positive clients to become lost to care, and ways that the MAI program can address social determinants of health such as housing, food access, and transportation.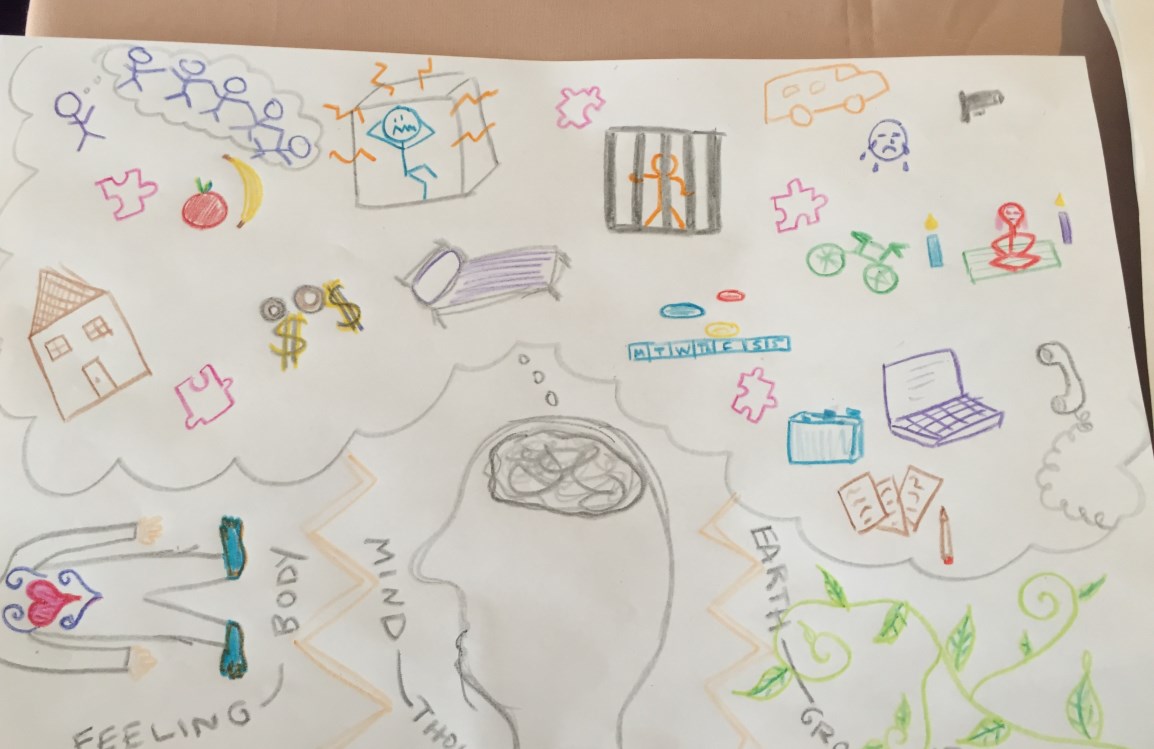 During a Minority AIDS Initiative learning session held in Philadelphia, AIDS service organization workers designed their ideal outreach worker.
The impromptu art show was part of an MAI shared learning session, facilitated by the Foundation in Philadelphia on April 30. Through interactive sessions, participants from the nine Pennsylvania AIDS service organizations currently partnering with JHF to link and retain HIV-positive clients in medical treatment—and ultimately lower community viral loads—gathered to define successful outreach strategies and plan for sustainable lost-to-care practices.
MAI outreach workers tailor interventions to diverse populations and unique agency settings, including both hospital-based clinics and community organizations. Agencies used scenarios representing each of their client populations to identify triggers that influence clients becoming lost-to-care, such as loss of benefits, incarceration, unstable housing, and co-morbidities. Then, by mapping each client's "road to retention," they outlined a variety of ways to remove barriers—including assisting clients to obtain identification and benefits, setting individual client goals, and maintaining a trusting relationship.
During the learning session, JHF Program Coordinator Sue Steele discussed the Foundation's efforts to prevent HPV-related cancers by boosting vaccination rates in southwestern Pennsylvania. Agency partners then looked for opportunities to promote this preventative intervention among HIV-positive and at-risk individuals.
Several agencies also had the opportunity to participate in on-site peer exchange visits while in Philadelphia.  On April 29, Aaron Arnold, community resources coordinator at Pittsburgh AIDS Task Force and Christina Farmartino, executive director at The Open Door attended a prison-linkages seminar facilitated by Action AIDS followed by a site visit to learn about processes for coordinating outreach with comprehensive case management. Farmartino also visited Prevention Point Philadelphia to discuss their plans to replicate The Open Door's harm reduction housing model. This partnership was initiated as a result of the collaboration through the MAI grant. Team members from both the clinical and social work teams at Pinnacle REACCH visited Philadelphia FIGHT and Albert Einstein Medical Center to observe clinic-based outreach processes.
"Through the MAI grant and these meetings, we learn a lot from each other and motivate each other," one participant in the learning session said. "JHF brings us together to see what's possible."