The Centers for Medicare and Medicaid Services' Quality Innovation Network-Quality Improvement Organization (QIN-QIO) program has lofty ambitions: reduce health disparities, promote chronic disease management, and lower costs across the U.S. by creating learning action networks, which align all healthcare providers and advance best practices. But how do these learning action networks form, communicate, and grow? How can a nurse looking to vaccinate more seniors against pneumonia in, say, Louisiana, draw inspiration and knowledge from a colleague in Pennsylvania?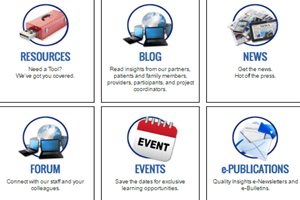 As a subcontractor to Quality Insights (a CMS-contracted QIN-QIO), PRHI is providing access to virtual learning opportunities for healthcare providers across the continuum in Pennsylvania, West Virginia, Delaware, New Jersey, and Louisiana. PRHI's technical and educational team works with Quality Insights and leaders within those five states to develop educational courses, resources, and communication channels to further specific goals, or tasks, of the QIN-QIO. These tasks include improving cardiac health, eliminating hospital-acquired infections, promoting care coordination and medication safety, optimizing electronic health record systems, preparing for value-based payment and quality reporting, enhancing nursing home quality, treating congestive heart failure, expanding palliative care options, and boosting adult immunization rates. 
Each task has its own "community" on the My Quality Insights platform, where providers working on the task have on-demand access to discussion forums, blogs, educational materials (including those that qualify for continuing nursing education credits), newsletters, and events calendars in one spot.
As QIN-QIO task lead for adult immunizations, Brenda Tincher works to catalyze quality improvement and disseminate knowledge among more than 400 participating clinicians and 200 home health agencies, spread across a wide geographic region. My Quality Insights provides a platform to share best practices and success stories as well as solve problems, from the Jersey Shore to the Bayou.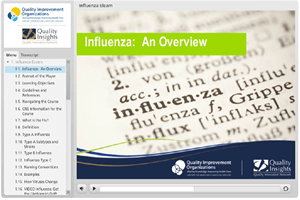 "PRHI was instrumental in helping me develop my first E-Learn for the immunization community, and to set up the community overall," Tincher says. "Being able to share the resources that we are adding every day is invaluable, and the continuing education credits offered through My Quality Insights are a huge selling point when we approach clinicians and staff about participating. The blog and discussion forums allow us to see what's working for others working on the task, and to see how it might apply in our particular communities."
Across all of the QIN-QIO tasks, nearly 700 people are harnessing the educational and communication tools available on My Quality Insights. PRHI's team continues to work with task leads to enhance the value of each community, including by developing new E-Learn modules that earn educational credits for providers.
There are currently eight E-Learns that participants can access for CNE credits at any time, focused on the Comprehensive Unit-Based Safety Program, influenza, oral anticoagulants, Central Line-Associated Bloodstream Infections, Catheter-Associated Urinary Tract Infections, Clostridium difficile, value-based payment and quality reporting, and using Condition-Specific SBAR (Situation, Background, Assessment, Recommendation) tools to improve nurse-physician communication. PRHI is currently working on CNE-eligible courses on antimicrobial resistance, palliative care, and patient satisfaction metrics (HCAHPS).
"Our partnership with PRHI has been such a positive experience," Tincher says. "I'm looking forward to working with them to develop my next E-learn."