JHF Hosts Pittsburgh Leaders to Spark Patient Activation Movement, Improve Population Health
Date Created: August 31, 2015 10:25 AM
Author: roger demo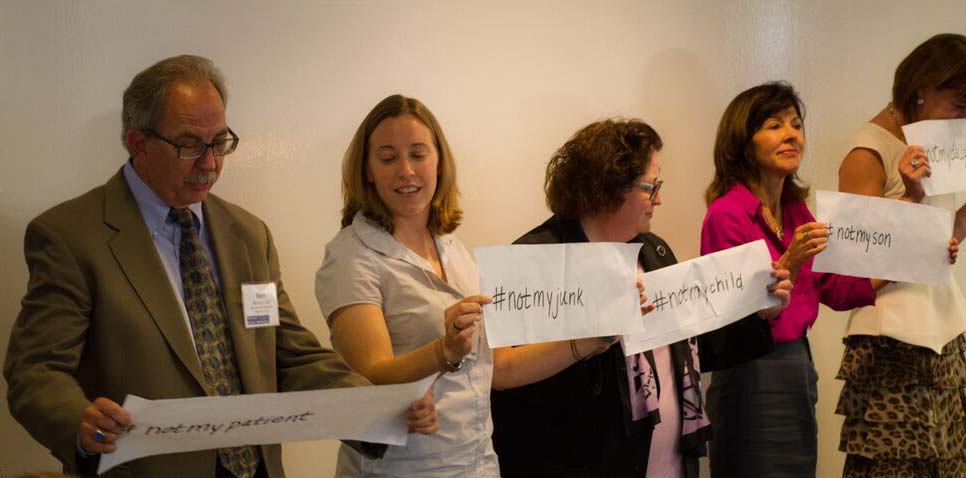 (L‐R): JHF Board member Bern Bernacki, DO, MPH; Anne Nagy, from the Allegheny County Health Department; Amy Hart, president and CEO of Center for Hearing and Deaf Services; Kim Evert, CEO of Planned Parenthood of Western Pennsylvania; and Ellen Beckjord, director of Population Health Program Design and Engagement Optimization at UPMC Health Plan pitch their social media strategy to convey the urgency of getting kids and young teens protected with the cancer‐preventing HPV vaccine.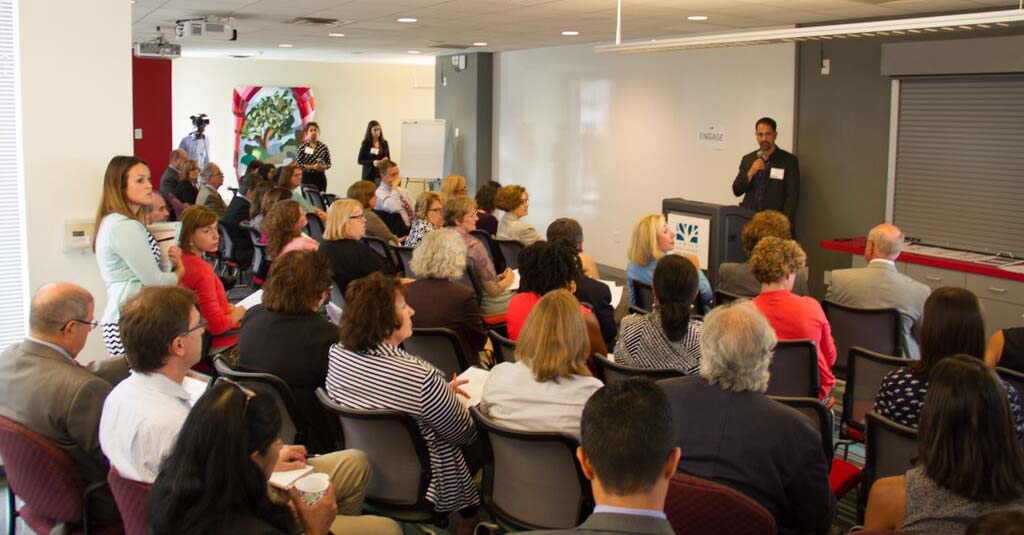 PRHI Director of Education and Coaching (at podium) facilitates a talk‐back session among the 70‐plus health and consumer engagement leaders gathered at the QI2T Center on July 15. The groups identified key attributes to sparking a patient activation movement, including strong leadership, conveying a sense of urgency around the health issue, and including all stakeholders in the conversation.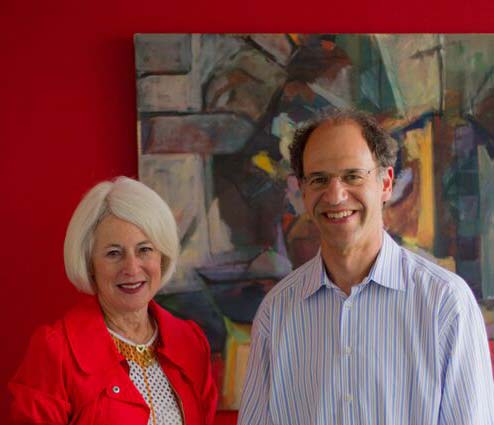 Karen Feinstein with Health Affairs Editor‐in‐Chief Alan Weil, who discussed the role of activated patients in a changing healthcare landscape during JHF's July 15 event at the QI2T Center.
On July 15, some of Pittsburgh's leading voices in health and consumer engagement stepped to the front of a full‐capacity QI2T Center and made their social media pitch to prevent cancer through HPV vaccination.
"4,000 women die from HPV‐related cervical cancer each year," one said, flashing a hand‐made sign with the hash tag #NotMyDaughter.
"Over 60% of eligible children are not vaccinated against HPV," noted another, raising a #NotMyPatient banner.
The grand finale: "Each year, there are more than one million HPV‐related illnesses that could progress into cancers." #WeCanDoBetter.
That was just one of a half‐dozen campaigns crafted to spark a patient activation movement in Pittsburgh—and beyond. JHF invited more than 70 medical providers, consumer advocates, policy‐makers, economists, and tech experts to study the DNA of past high‐impact social health movements and then create their own strategies for consumer activation.
Participants focused on six population health topics identified as priority issues by JHF: becoming head of your healthcare team, building community housing options for frail seniors, coping with post‐partum depression, increasing uptake of the cancer preventing HPV vaccine, managing the risk of developing breast or ovarian cancer, and promoting healthy eating habits, especially among those at risk for heart disease or diabetes.
From advocating for better HIV/ AIDS treatment to increasing breast cancer awareness to getting young adults to buckle up in the car, past social movements have galvanized large‐scale population health improvements, Dr. Feinstein noted while welcoming guests to the event. They key is to motivate consumers to take control of their health—something today's tech‐ savvy, information‐seeking patients are increasingly doing.
"We have a new kind of patient seeking a medical partnership, rather than a quick fix," Dr. Feinstein said. "When patients are engaged in their care, we achieve better outcomes at a lower cost. Our goal is to not only help patients utilize the unprecedented amount of health information available today, but also to speak up about how the health system and their communities at large can help them reach their goals."
The event also featured a TED Talk‐style presentation by Alan Weil, editor‐in‐chief of Health Affairs, on the role of activated patients in a rapidly changing U.S. healthcare system. Traditional roadblocks to consumer engagement are breaking down, with clinical education emphasizing patient‐provider communication, technology democratizing health information, and new payment models emphasizing health outcomes that are best achieved through medical partnerships. But the consumer activation movement will only thrive if the healthcare system recognizes that there is no one‐size‐fits‐all approach to helping patients meet their health goals.
"My most despised phrase in health care is the non‐ compliant patient," Weil said. "Apple doesn't have a department of non‐compliant iPad users. They take as a given that we have different assumptions, knowledge, and experiences, and they engineer to meet our differences. The cornerstone of patient activation is demanding a healthcare system that is similarly engineered to account for our differences. "
JHF is already actively involved in developing multi‐ stakeholder solutions to the six population health problems examined on July 15. Those efforts include the Foundation's HPV Vaccination Initiative and Center for Health Information Activation (CHIA), which provides communication tools and skill‐building for providers, consumers, and families, as well as guidance on ϐinding and assessing health information, creative health apps, online communities, and other tools and services. Multidisciplinary graduate students who participate in the 2015 Salk Fellowship will also hone in on these six problem areas.
The creativity unleashed on July 15 will serve as a catalyst for community action around those six population health issues, and will guide JHF's future grant‐making efforts.
"The groups delved into the root causes of these problems, and considered the levers that they could pull to change behavior," Dr. Feinstein said. "This event provided great ideas for advancing solutions to health problems, and also built a sense of community and identification."
With the playbook for patient activation developed in Pittsburgh, JHF is prepared to help other communities removed their longstanding barriers to better health.
"If lots of people did this," Dr. Feinstein said, "we could spark a movement across the country—one that finally makes the U.S. a leader in population health."
...