2015 Summer Interns Leave Lasting Impact at JHF
Date Created: August 31, 2015 10:42 AM
Author: roger demo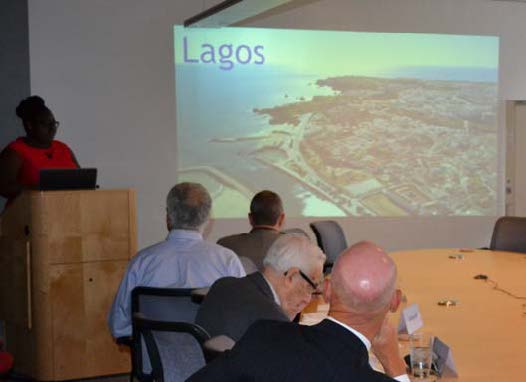 Damilola Bamidele‐Abegunde, working towards an MPH in epidemiology at the University of Pittsburgh, explains her background in public health while living in Lagos, Nigeria, and how it led her to JHF, where she contributed to the Minority AIDS Initiative.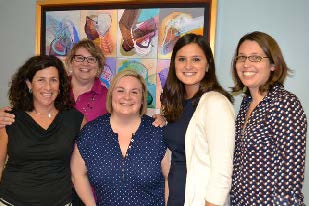 (L‐R): Quality Improvement Specialist Stacie Bonenberger, MOT; Senior Quality Improvement Specialist Jennifer Condel; Quality Improvement Specialist Anneliese Perry; JHF summer intern Sarah Howard, an economics student at Allegheny College; and Quality Improvement Specialist Deborah Murdoch, MPH.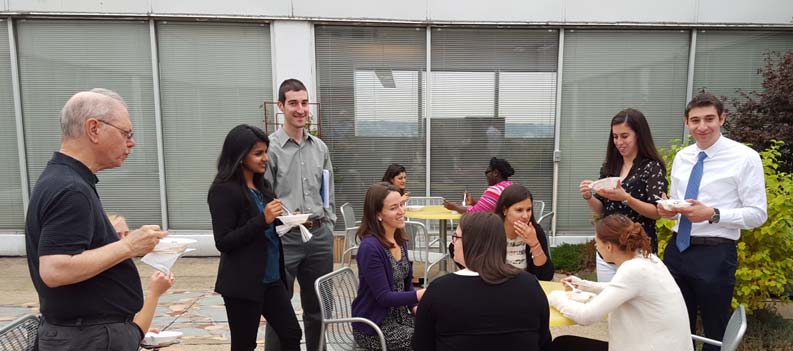 JHF staff and interns mingle during an ice cream social in the QI2T Center's Japanese Garden.
The selection process for this year's summer internship program was the most competitive in JHF history, with 12 future leaders in healthcare delivery, policy, and research selected from an applicant pool of 75. During meetings of the Health Careers Futures (HCF) Board and JHF Distribution Committee in August, the interns showcased how they applied their Perfecting Patient CareSM training by advancing a broad array of Foundation projects:


Michael Backman, a doctorate student in biostatistics at the University of Pittsburgh, crunched numbers on the impact of motivational interviewing in the Primary Care Resource Center (PCRC) Project. He found that MI  training for staff was associated with lower patient refusal rates to enroll in PCRC services.


Damilola Bamidele‐Abegunde, working towards an MPH in epidemiology at Pitt, streamlined data collection and reporting for AIDS Service Organizations participating in the Minority Aids Initiative by creating a standardized template.


Nayanika Basu, a doctorate pharmacy student at Pitt, created a toolkit for colleges to host initiatives that raise awareness about the cancer‐preventing HPV vaccine. She also developed a short HPV education video that will play in Pitt residence halls and the student union.


Tayler Bungo, an MPH student at Washington University in St. Louis, developed an online training module for quality improvement managers to strengthen their data collection and analysis skills. She also created a tool for primary care practices to assess their readiness for Patient‐Centered Medical Home certification.


Breann Farrier, a Master of Social Work student at Pitt, observed staff‐client interaction at a few sites participating in the RAVEN initiative, and developed a questionnaire to help them achieve the project's goal of reducing avoidable hospital readmissions among nursing home residents.


Gabriel Gan, studying human health and history at Emory University, developed a presentation on two‐way communication between patients and providers. Gan, an emergency medical technician, also rode along with CONNECT Community Paramedics, who are working to reduce hospital and ER readmissions by helping patients with medication reconciliation and transportation, among other items.


Sarah Howard, an economics student at Allegheny College, helped plan and execute sessions of JHF's Patient Safety Fellowship. She also joined the fellows as they conducted observations at local acute care, primary care, and long‐term care sites.


Nova Hubbard, a Master of Social Work student at Pitt, created outreach materials to raise awareness about educational offerings available through the RAVEN initiative, and also helped to evaluate JHF's inaugural Fellowship on Death and Dying.


Nayana Nagaraj, working towards a PhD in epidemiology at Pitt and a past participant in JHF's QI2T Fellowship, evaluated models for elder care at local Community LIFE centers.


Haley Roberts, a healthcare policy and management student at Carnegie Mellon University, created an HPV toolkit for middle school‐aged children so that schools can host on‐site vaccination clinics. She also worked on developing a Jewish genetics curriculum for children participating in summer camps.


Elizabeth Sierminski, an MPH student at Pitt, created a social media strategy to engage stakeholders around HPV vaccination.


Minal Singhee, a CMU healthcare policy and management student, created data maps to show HPV vaccination rates in local neighborhoods and also worked on programming for upcoming Health 2.0 Pittsburgh events.


All 12 interns noted that their experiences at JHF this summer affirmed their post‐school career paths. They also thanked Foundation staff for mentoring them and involving them in important JHF initiatives, including the July 15 patient activation event. They participated in a debrief to provide suggestions for next year's summer internship, and committed to spreading the word on campus about the value of the program.
...